1.Old Town 
There are so many things to see. If you want to then I would suggest just relax, go for a walk and get lost in those narrow streets. I am more than sure that they will take you to a nice place.
You should not miss the House of the Blackheads, St.Peter's church, Dome square and Dome cathedral, three brothers building, the cat and others. Most of the Riga Old Town is included in UNESCO. Anywhere you go, you will find something amazing. So be prepared to take lots of pictures!
Panorama of Old Town looks like this: 
2. St.Peter's church
Get upstairs for one of the nicest views of Riga.  It has a cool tower where you can get and see the view from the top, 72 m. It costs €9 to enter the tower. I think that it is worth that!
Notice that the oldest churches in the Old Town have roosters on the top of their spires, not crosses. According to tradition, the rooster scares away the devil and keeps a watch for God. Those roosters are mentioned in many folk songs as singers.
3. Art Nouveau district
Riga is the capital of Art Nouveau style buildings! Most of them are located on Alberta Street, Elizabetes Street and Antonijas Street. There is also the Art Nouveau Museum. What I love about it is the staircase! Pay attention!
Art Nouveau was distinctly anti-historic and it marks the beginning of the contemporary system of architecture styles. Art Nouveau is a style which is one of the dominant styles in the downtown Riga. Approximately 40% of all the building in the center are created in this style. And that is more than in any other city in the world.
4. Latvian National Library
Every place has its national buildings, for example, national museum or national theatre, opera, national library. Latvian National Library has an old history, 20 years older than the building. The idea for this big project came to the famous Latvian American architect Gunārs Birkerts a long time ago. Those were different times. It took a long time to realize the project. As we know, times are changing continuously, and so it was this time. Financial resources changed, support changed and the ideas also changed. If they would start to design this huge building recently, probably it would look differently. But as the idea was already created, they took it with the honour and built the way it was meant to be.
The building is a symbol of a fairytale of the glass mountain. Not everyone can climb a mountain like that, only the chosen ones can! That is a symbol of a mountain of wisdom. Pretty deep concept or a national library.
Explore the building also from the inside, enjoy the interior. To be honest, I prefer its interior comparing the exterior. In my opinion, inside is really nice and sophisticated.
Outside of it, you will see the panoramic view over Riga Old Town.There is a wonderful place where to catch one of my favourite landscapes of Riga. 
5. Latvian National Museum of Art
It has been recently reconstructed and now it has got back its old chick. Long-term expositions, short-term expositions, lots of art to enjoy. You can get up to enjoy a panoramic view from the terrace and also to experience how it is to be on the top of the old museum. Pretty fantastic! Of course, the museum is full of different paintings and art expositions. Besides that, you have to admire the beauty of the interior. Stairs, ceilings and the rest. There is a white room which I love so much! It is incredible what a white colour can do. This museum is located really close to the Art Nouveau district!
6. Andrejsala peninsula
Andrejsala is a different kind of neighbourhoods compared to the center. As you know, Riga is crossed by the river Daugava which later goes into the Baltic Sea. Not every capital city has this kind of geographic situation. Adrejsala has its pier and is close to the Riga Passenger Terminal where you can take a cruise and go to Stockholm with Tallink ferry. I could characterize Adrejsala with few words: hidden, industrial, hipster, cranes, chill. I love it in days, I love it at nights, I adore it at the sunsets.
At the beginning of the island you will find some fancy restaurants but to get to my favourite place you will need to go a bit longer. Go until you see the cranes and wait for the sunset. You will love it!
7. Zaķusala and Lucavsala, and Ķīpsala, islands
There are couple of islands in Riga. Zaķusala, Lucavsala, also Ķīpsala. The word "sala" means "island". You can reach any of them with a public transport or a bike.
Zaķusala is the island of the TV tower and Television building. In fact, Riga TV Tower is the highest TV tower in Europe (the same height as Berlin TV tower.) It is also crossed by the railway bridge. I like the island because of its calm. I love to go there when I want to isolate myself from the daily rush. There are almost no people and I feel that sometimes I need to be there to charge myself. It is a quiet place with a view of the Old Town. Peace and silence almost in the city center, I love to feel it! This is one of my very favourite places in Riga!
After visiting this island, for your return journey, I recommend taking a walk. Cross the Salu bridge and walk around Spīķeri creative district and then go along the river on the Daugava promenade.
Lucavsala is the island of actions. It is very close to Zaķusala but this one is much louder because of people. They used to go there to run, to work out, to swim, to enjoy many water activities or to go to a cafe or a concert. When I feel that I want to be around people, this is a good place to be in the summer.
Ķīpsala is the island for living. Quite a big area of the island is covered by Riga Technical University Campus. But when you go further, you will see lots of houses. There are many wooden houses which belong to our historical heritage. Ķīpsala used to be a living area for fishermen. Nowadays many of those old buildings are reconstructed and owned by rich people. It is a trend there to live in an old building. I recommend going for a walk there next to the waterfront of Daugava. If you want to, you will find a nice restaurant on your way.
8. Mežaparks
In Latvian it means "Forest Park" and it is the biggest park in Riga. There is a huge area covered with forest. Mežaparks is also a place with the biggest open-air stage in Riga and Latvia. When you go to Mežaparks with your family, go to see also the Riga Zoo which is nearby. I like this green neighbourhood which is located within a distance from the Riga city center.
The open-air stage is a place for big concerts. The biggest is Latvian Song and Dance festival which happens once in five years. It happened this year, 2018. I am proud that I had a chance to be one of the participants of the huge choir. All the audience was full and also full was the stage. 50 000 singers on the stage. 100 000 singers around the area. That was incredible when we all sang the same song at the same time!
9. Freedom Monument
Latvian symbol of freedom! Milda is a name of the woman that holds 3 stars. Those 3 stars symbolize 3 regions of Latvia, nowadays there are 4 of them. It was opened in 1935,  November 18th. 42 m high monument with golden stars. It is located in the heart of the city. What I also love about its location is the pedestrian road; cars and tram will always stop for you so you can get to the Freedom Monument without any obstacles.
Next to the monument, you will find Bastejkalns park, on the other side you will find the Latvian National Opera and Ballet and on the other side, there will be the Old Town.
10. Open Air Ethnographic Museum
In spite of the fact that Latvia is a pretty small country, it has an old history. Much older than the country.
In this open-air museum, you will feel the ethnographic atmosphere which ruled in Latvia long time ago. There were slightly different traditions and culture in different areas of Latvia and so it is created in the museum. You will see lots of wooden houses and most of them are authentic. They are literally taken from their original location and put there as exhibits in order to preserve them. People really used to live in many of those houses. I find it a nice way to show the culture for people who haven't seen it before. Latvians have a lot to show!
Many Latvian events take place there. The museum is located in Berģi, close to the end of Riga, pretty far from the center. You will really feel the Latvian ethnographic atmosphere there!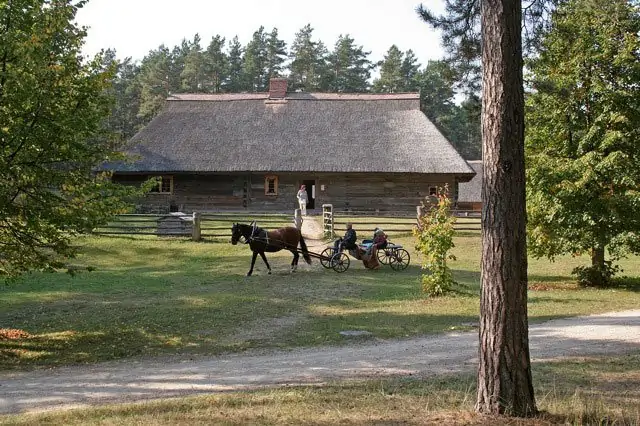 I hope you found a bit of inspiration here to visit Riga and see the best of it!
Remember, no matter where you go, enjoy the landscape!