Latvia is a small country but still, there are a lot of places which you should see! I will give a list and you have to choose your favourites and start to explore this country!
Rīga. The capital city of Latvia. There are so many things to tell about Riga so I will create a special post dedicated to Riga.
Jūrmala. A city which actually means "seaside" so it is obvious that you can go to the beach there and you will enjoy it. Jūrmala is a resort city of Latvia.
Ķemeri National Park. One of my favourite places in Latvia. It is nice in every season. Go there and you will be amazed! If I can advise, go there early in the morning for the sunrise or be the at the sunset. The fog and silence will impress you!
Cēsis. Many years ago it was the capital city of Latvia. Now it is a nice city which is developing pretty fast. In case you need to say this to a Latvian person, here will be the pronunciation: ~[tse:sis], please, just don't say [sesis] because that wouldn't make any sense. If you have a chance then visit this city, one of the oldest cities in Latvia. There is also located one of few concert halls of Latvia.
Cēsis Castle. ~500 years ago this castle was the greatest medieval fortress of Livonia.
Sigulda. Very common destination in the Autumn. A town where you can explore medieval castle ruins. The original Sigulda medieval castle was built in 1207 as a castellum type fortress, later rebuilt into a convent type building. The residence of the Land Marshal of the Livonian Order since 1432. Nowadays it is used as a stage. Last year there was a performance given by famous The XX.
There is also Turaida Medieval Castle.
Another interesting thing is that there is a bobsleigh track in Sigulda. Bobsleigh and luge track is located in Sigulda Town at 13 Šveices Street. The track was built in 1986, it is 1200+220 metres long and consists of 16 turns. Speeds of up to 125 km/h can be achieved on the track.
Liepāja. City where you can enjoy sun, wind, Baltic Sea, sea sand and rock. It is used to be called as the city where the wind was born. Recently they built there a concert hall called "Great Amber".
Another interesting thing there is Karosta prison which is one of the most popular tourism objects in Liepaja. Even more amazing is the fact that "Karosta Prison" museum was created by enthusiasts who wished to preserve the valuable military heritage and obvious testimonies of history. Nowadays it is used as a hotel and for a decent price, you can get the feeling of the atmosphere which was live there some years ago. With that, I mean the interior, rooms etc. For extra money, they will treat you as prisoners. Crazy but people do pay money for that.
And another thing I like about this city is forti. Old fortress of Liepāja.
Ventspils. Another city of the harbour. Place where you can find a lot of cows all around the city.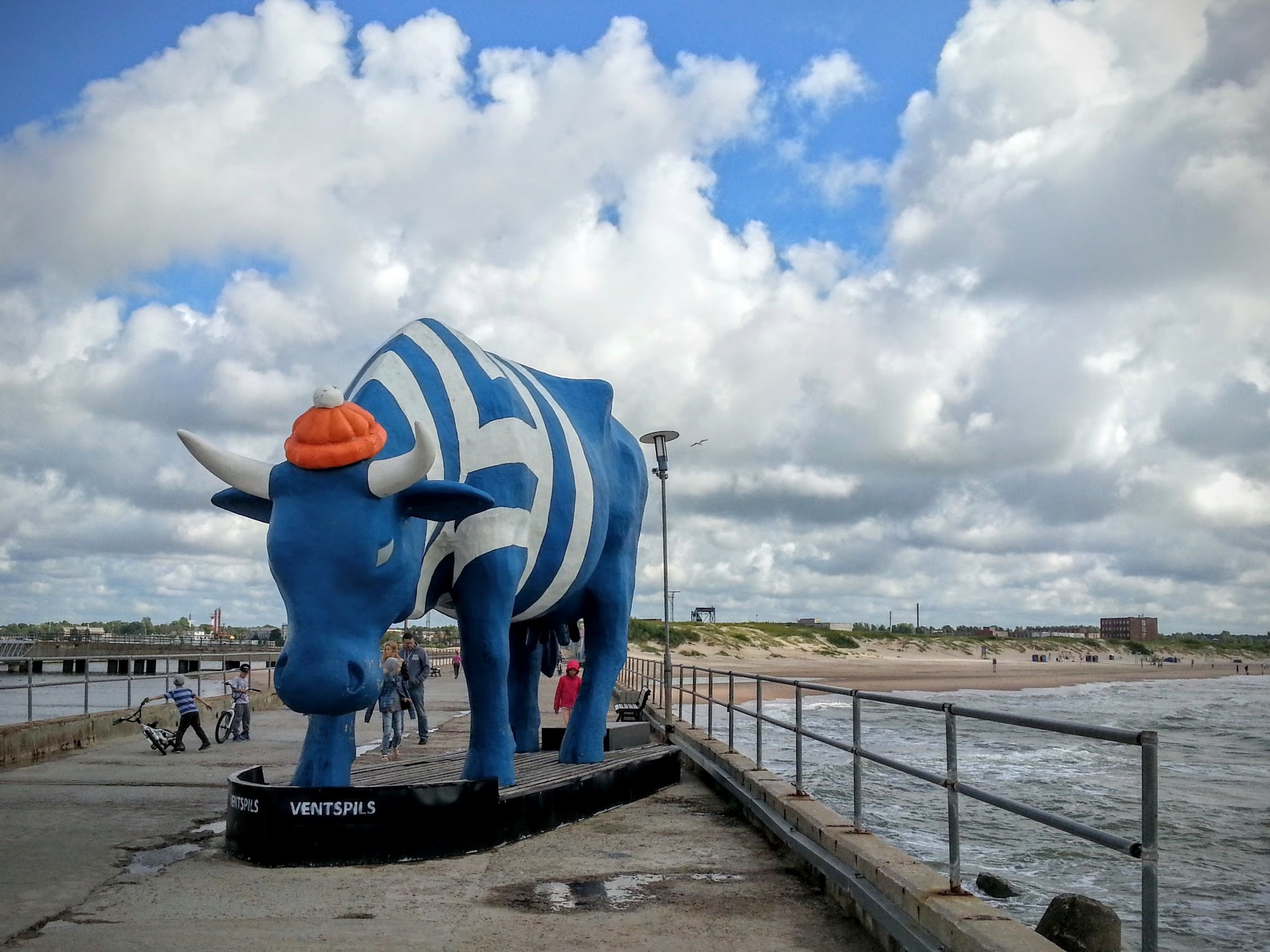 Kuldīga. It is an ancient town with unique, distinctive architecture. Beautiful place. Nowadays when you want to build there something, you have to follow some of very strict rules. This way they maintain the historical beauty of the place and its architecture.
Ventas Rumba is the longest waterfall in Latvia. It is a waterfall on the Venta River in Kuldīga, Latvia. It is the widest waterfall in Europe – 249 metres (817 ft) and up to 270 metres (886 ft) during spring floods. Its height is 1.80–2.20 metres (5.9–7.2 ft) and it changes depending on the water level in the river.
You can also see there some flying fishes.
Jelgava. Another place where you can see a palace. This one is nowadays used by university, it is very spacious. There was a time when it was used by French king Luis XVIII. This palace has pretty interesting history, related to Livonia, Russian emperor, Napoleon, Tombs of the Dukes of Courland, university and others.
Rundāle Palace (Rundāles pils). Known as small Versailles or Baltic Versailles. It is the most outstanding monument of baroque and rococo architecture and art in Latvia. The palace was built for the Duke of Courland, Ernst Johann Biron based on the project by architect F.B.Rastrelli during two time periods – from 1736 till 1749 and from 1764 till 1768. There is a spacious inner place with baroque and rococo style interiors and also impressive gardens which cover 10 hectares and fully retain original layout designed by Francesco Rastrelli in 1735/1736. It is the most important historical garden in the Baltics.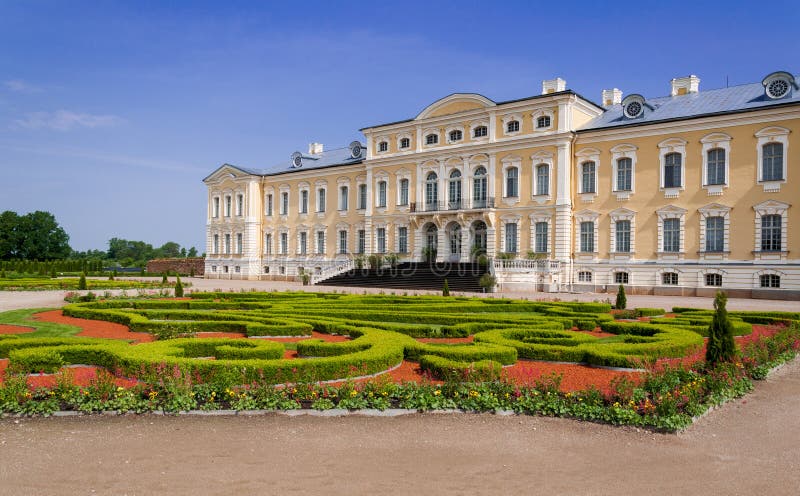 Preiļi. That is my hometown. It is located 200 km from Riga to East. You can find there some historical palace and also dress up like kings and queens. Preiļi is also a place where you can catch a free wi-fi in the public beach. It is also a place where during summers you can rent catamarans for free and during winters you can rent skis completely for free just for your pleasure. Isn't that cool?
Čertoks a.k.a. Velnezers. It is a lake which is called Devil's Lake. This lake is pretty mysterious, there are many poems about it. That is very interesting that there are no plants in the lake.
Aglona. Place where the only basilica of Latvia is located. And around the town, there are lots of lakes. In Aglona you can visit a bread museum which is very nice. You can make there your own bread and then enjoy it in a Latvian way!
Daugavpils. Second largest city of Latvia. Place where you can see the river Daugava and also an impressive fortress. And as well Mark Rothko Art center. Also, you can visit there a home-made vodka museum.
Valmiera. Called as the pearl of Vidzeme. Vidzeme is one of 4 rergions of Latvia.
Rēzekne. One of the largest cities in Latvia. One of the biggest concert halls of Latvia is located there, concert hall called Gors.
Kolkas rags known also as Kolka horn.
Ainažu pier.
Sietiņiezis 
Daugava river curves.
Gauja river curves.
Bauska castle. Place where Mēmele & Mūsa rivers flow together.
Baltā kāpa 
In general, Latvia is a really green place. It means that you will feel calm and breathe fresh air. Nice place to chill and relax.
River Daugava. The largest river in Latvia. There are several places where to see the curves or the river. The most beautiful ones are near town Krāslava. 
The Baltic Sea. Latvia has a decent seaside with the Baltic Sea so you have many options to visit the beach. I could say that seasides are quite variant in different places.
I hope you enjoyed this summarize of nice places in Latvia and I hope that it inspired you to visit some of them! Have a nice week!